SNO EyeSafe® Social Public Security Solution
Challenges
The international circumstance is unstable, hi-tech and professional crimes are unexpected nowhere
Police force is limited for increasing terrorism, crimes , sectarian conflicts and lower emergency response and decision-making efficiency
Blind spots, unclear images evidences , no technical measures for practical police business cause very low detection rate, manual search through massive video files is labor-intensive
No digital command and dispatching platform to respond to emergencies, disasters, riots and public incidents; the mobile troops become information islands
No unified security management platform to link and share the existing dispersed surveillance videos for all the police stations and security departments
Solution
SNO EyeSafe®Social Public Security system integrates video surveillance, video analysis, video investigation and case management and police dispatch functions for practical police business. Its video surveillance and video investigation functions are fundamentally practical for police business, more importantly social security maintaining, case repository, blacklist arming, and case study are customized according to police business procedure. This system improves law enforcement efficiency and case solving rate.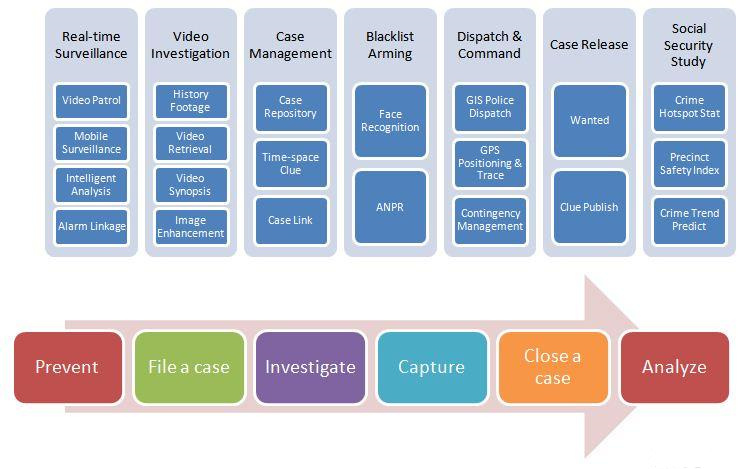 The system integrates social videos, integrated social information and hi-tech defending resources to construct a networked social public security surveillance platform. It relies on the surveillance centers of police department and coalition emergency response centers to monitor social industries, sensitive departments and institutions, main roads and public places. The architecture of EyeSafe is extensible that can provide optional value added functions to fit for different customer's needs.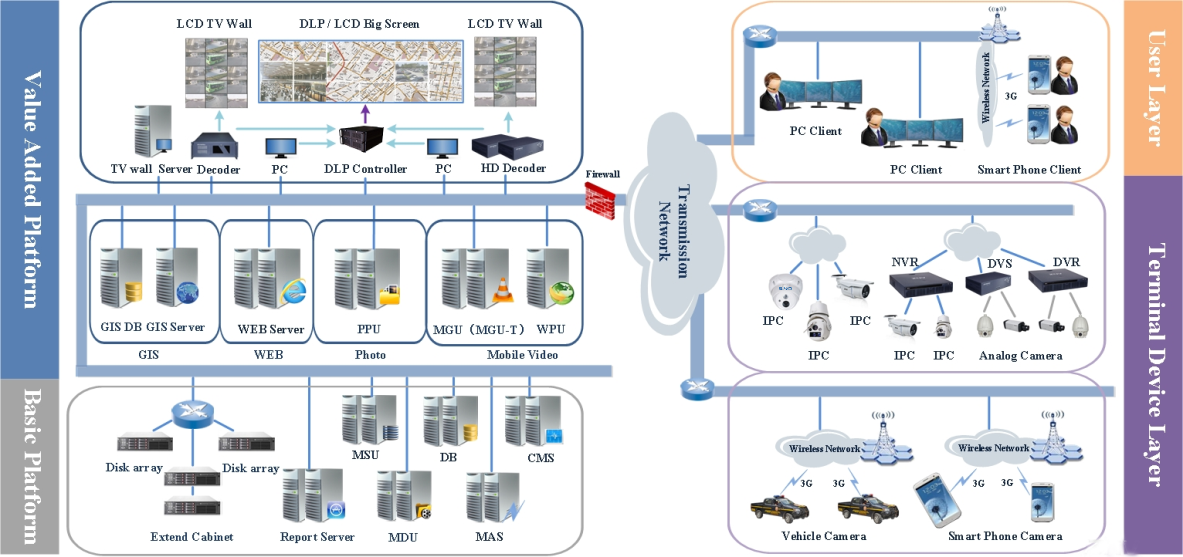 Advantages & Features
- Provide a digital, networked, and integrated social security management platform, and also police services; make flexible deployment based on police organization and share videos and alarms inside the network
- Provide Large scale platform which supports Multi-domain or Multi-level structure
- Provide practical functions for police business, such as video case repository ,video investigation and smart retrieval improve efficiency of case investigation
- Provide face recognition, LPR check point and integrated alarm sensor or devices to ensure event prior arming automatically
- Provide varied intelligence HD video analysis functions to reduce quantity of cameras and ensure interest event to be detected in real time
- Provide alarm Linkage to link the video surveillance system with inner subsystem or other security protection systems, such as the intrusion detection, access control, and emergency command control system
- Comply with all standards in video surveillance fields also provide common Interfaces to integrate or be integrated by other systems
- Provide large storage capacity, flexible and redundancy storage mechanism such as direct integration storage devices solution, private cloud storage solution.
- GIS, GPS and mobile law enforcement video functions to position and reproduce the tracks of mobile units, and make accesses anytime anywhere
- The command center with large screen and multi-functional agent seat to facilitates cross-department collaboration and improves emergency response efficiency
Customer Value
- Unified security protection, comprehensive control, resource sharing, intelligent analysis and smart video investigation Platform for public safety, These capabilities help control incidents before, during, and after they occur
- The visual and unified dispatch of police resources accelerate police emergency response and improve their command abilities
- The contingency management facilitates managers make efficient and effective response to emergencies, so social security and stability is well maintained.
- The system improves police management efficiency, saves police resource expenses and makes public resources possible to server more people.