SNO Expressway Integrated Surveillance Solution
Challenges
- The expressway is too long to manage by fewer managers, therefore, Law enforcement officials are unable to check every road in person, so the uncovered roads have more violation behaviors and more potential accident risks.
- It's not so easy for expressway manager to get evidences of traffic violation behaviors especially overspeed relying on conventional management method.
- It's too difficult to trace and capture criminals escaping by motor vehicle; it cannot assist other departments to trace or locate suspicious vehicles.
- There are no live videos to check field situations even when something serious happened.
- It cannot directly contact Expressway Management Center in a serious accident or cannot describe the location and cause of clearly slow rescue which led to more serious consequences.
- It cannot advice vehicles to avoid effectively when expressway accidents or severe congestion occurs.

Solution
SNO Expressway integrated surveillance system is composed of six subsystem which often used for expressway daily run and maintenance to ensure safe and smooth traffic on expressway, which can improve operational efficiency and lowering operational costs.
Among of these six subsystems, LPR Video Check Point System and Video Surveillance System is customized for expressway managers and traffic police to behave driver behavior, LPR Video Check Point System can meter the speed of vehicles and detect then recognize vehicles plate number, Video Surveillance System can make expressway visible so that the staffs of expressway may make the correct dispatching decision miles away. Vehicles Video Surveillance System and Mobile Enforcement System is a complementary to LPR Video Check Point System and Video Surveillance System, which enable system work in blind-monitoring section. While Emergency Telephone System and Variable Message Board System is designed for driver on expressway, which can make communication and traffic smooth.
Through integrating these subsystems, we can not only provide a multi-dimensional view of expressway management for managers, but also provide traffic information and emergency communications facilities for drivers, which greatly improves the expressway vehicle safety. In addition, the expressway integrated surveillance system also assists other departments for collaborative work such as emergency dispatch, criminal chasing, etc…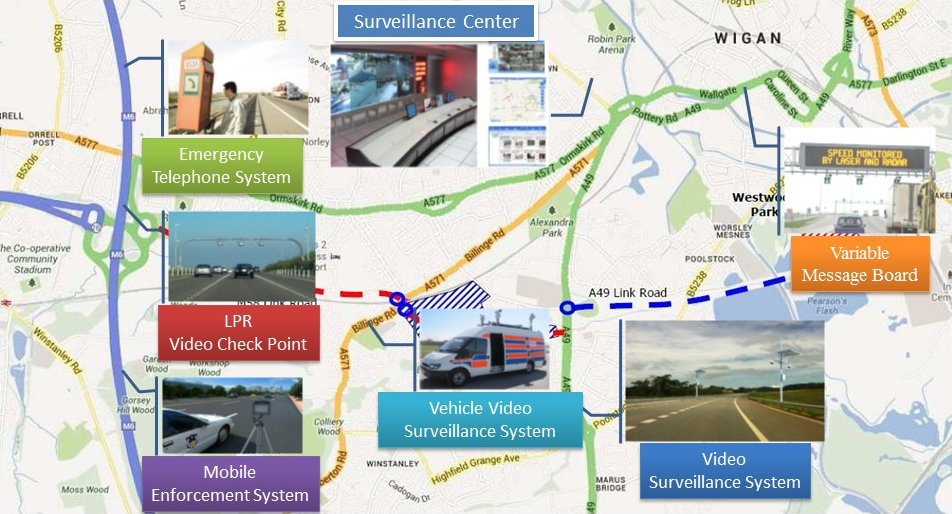 Custom Value
- Our system is to crack down on traffic violations, normalize on-road orders and behave drivers, so less traffic accidents, safer travelling and more social benefits are predictable.
- Thanks to the useful traffic information provided by our system, drivers make most appropriate plans to save much travelling or congestion time; from another point of view, roads are capable of larger traffic flow and ecological pollution is comparatively less.
- Our centralized surveillance, HD road vehicle recording and traffic violation auto recording functions result in much economic benefits for traffic management.
- Suspicious vehicles are blacklisted and invisible in nowhere, as our system records their live time-space whereabouts.
- Our system can locate emergency occurred position from emergency telephone on the expressway, so that the rescuer and traffic polices arrive in time.
- SNO visual surveillance, management and traffic message notice functions help vehicles avoid expressway accidents or severe congestion effectively.