SNO 4G home alarm Tuya Wifi Alarm APP 433MHz Wireless & Wired Detector Burglar Alarms RFID Card TFT LCD Touch Keyboard 11 Languages

Model:

SNO-G54

Brand:

SNO

Weight:

1.0KG

4G home alarm Tuya Wifi Alarm APP 433MHz Wireless & Wired Detector Burglar Alarms RFID Card TFT LCD Touch Keyboard 11 Languages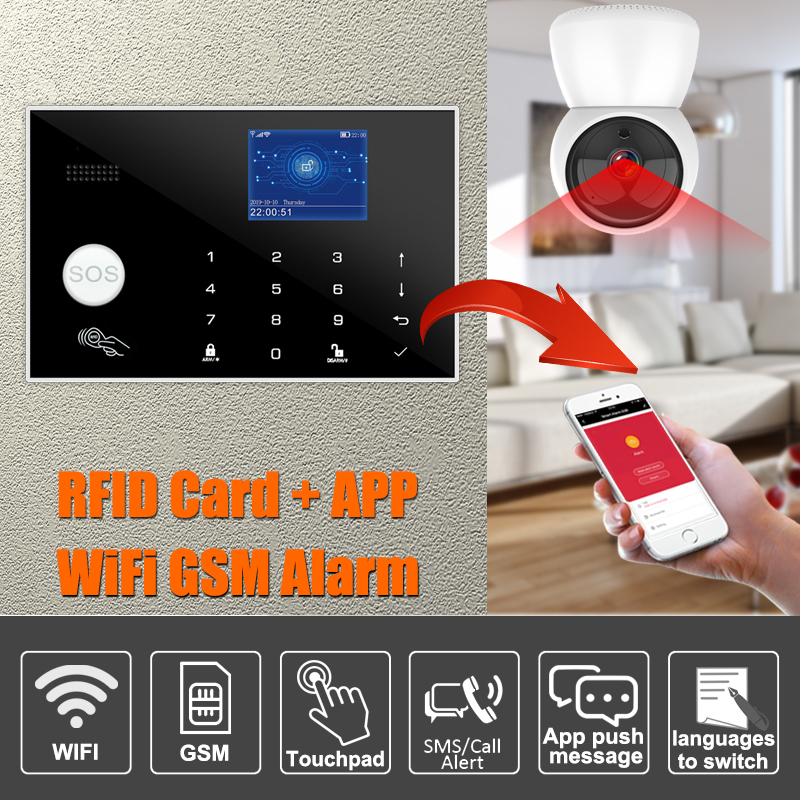 11 languages to switch
This alarm system support 11 language to switch : English / Russian / Spanish / German / Polish / Chinese / Italian / French / Portuguese / Greek / Romanian
Why choose our product??
We are a professional security company, we cooperate with big factory. It is more stable and quality products. We don't sell inferior products.
Product Comparison
1. New system support alexa voice control. Compatilble with alexa, Google home, IFTTT. Please see the video, you can see we can control the alarm host with a alexa.
2. New system support wireless detector and wired detector, but old system not support wired detector.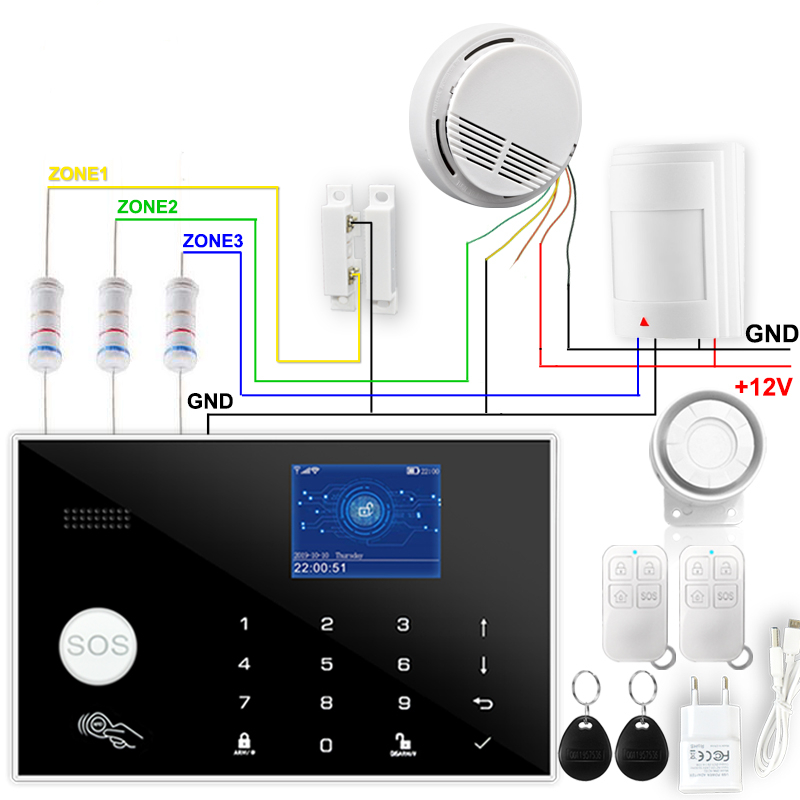 3. All the accessories is high-end product !
Product Description
WIFI / 4G / intranet alarm system: APP push,SMS,Voice monitoring,intranet center etc. Support different alarm channels. Enjoy the intelligent life. English / Russian / Spanish / German / Polish / Chinese / Italian / French / Portuguese / Greek / Romanian switchable: Support multi-language menu display, voice operation prompts and alarm SMS settings. 4G network automatic proofreading, to ensure accurate clock,support time zone settings, Convenient for multi-area application. Remotely monitoring alarm: When accident invasion,the phone remotely grasp the situation, high decibel live alarm through the host timely dial,send SMS notification, APP message push. Configure RFID cards: Configure 2 RFID cards, Support 100 learning/storage location for remote controller, RFID cards and wireless detector. Multi-zone location settings: Such as gate,hall,SOS,bedroom,Window,balcony,perimeter,smoke,gas, Carbon monoxide,water leaking etc zone name settings. 5 types defense zones setting: Ordinary zone,stay arm,24-hour emergency zone,closed zone, doorbell zone,Meet a variety of needs. Timely notification: When External power failure,built-in battery low power,APP push and SMS notification. When External power success,APP push. When Tamper alarm,SMS notification. 5 groups preset alarm phone numbers: SMS on/off and dial on/off can be set respectively. Timing arm and disarm: Set the arm and disarm in advance,so that life is safe every day. Delay function: User can set arm delay and alarm delay according to own needs. Add camera: Work with camera,when Accidental invasion, You can remotely monitor the situation immediately, speak and scare away thieves.
Compatible Alexa (and more...)
Compatilble with alexa, Google home, IFTTT. Please see the video, you can see we can control the alarm host with a alexa.
Real-time protect your home
If door is opened illegally, detector will trigger system alarm.
Alarm Message
You will receive app alarm message + alarm call + alarm SMS.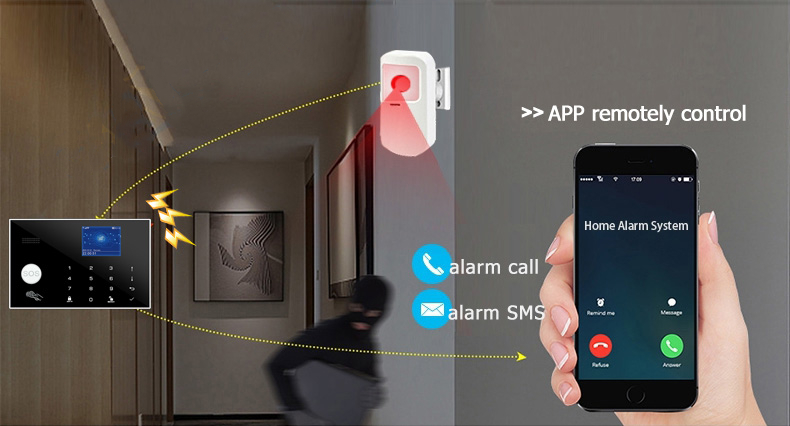 Add more detectors.
System support 100 wireless detectors, add more wireless accessories will makes your system more powerful, and your home will be more safe. Such as: door window open detector, motion detector, smoke detector, gas leakage detector, water leakage detector, and so on....
Compatible wireless siren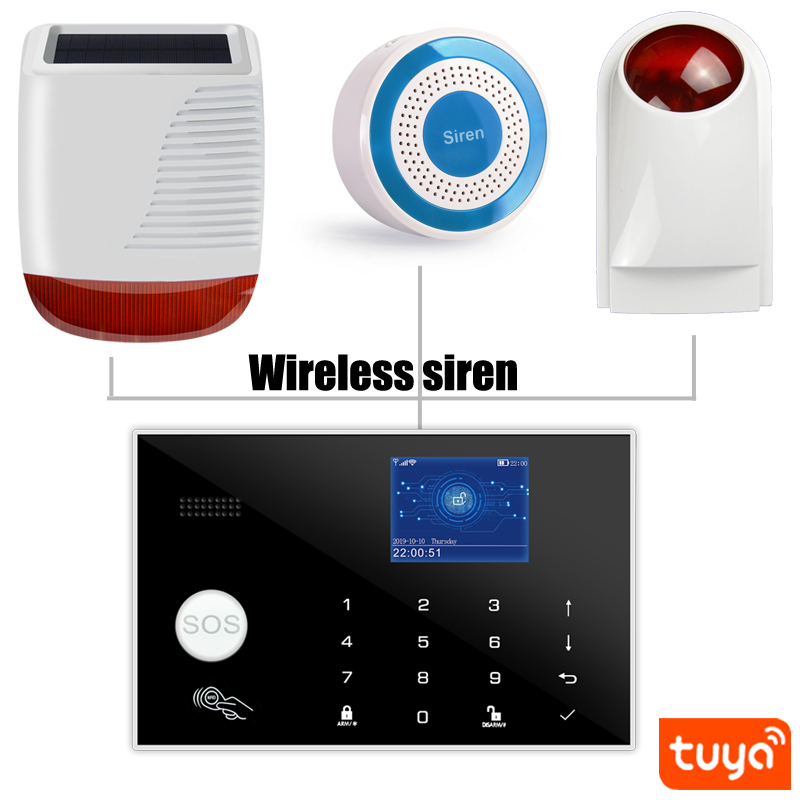 Specification
Power Supply: Micro USB 110/220VAC to 5V, 1000mA Backup Battery: 3.7V, 500mAh Rechargeable Lithium Battery Consumption: <55mA@normal Radio Frequency: 433Mhz GSM: 850/900/1800/1900MHz Wi-Fi: IEEE802.11b/g/n Operation Temperature: 0~55℃
APP Downloading
IOS / Android: Please search "TuyaSmart" or "Smart Life" in app store.
Wireless door detector
This is door window detector. In protect status, when someone open the window or the door, this detector will trigger your system alarm. and you will receive alarm app message + alarm call+ alarm SMS.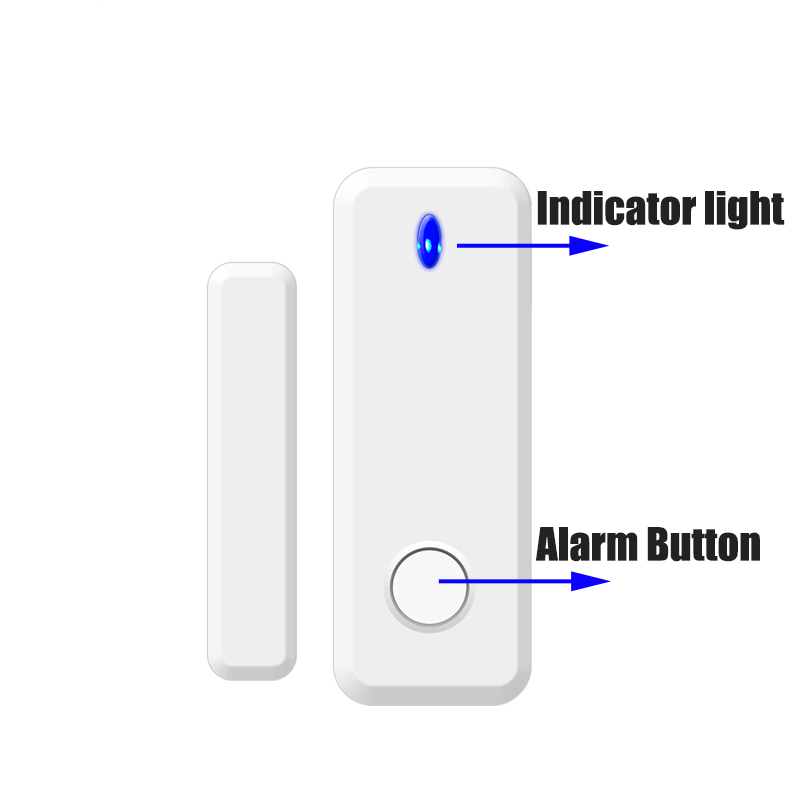 Wireless infrared detector
Normally, we install the motion detector on the wall, if detect thief, it will send wireless signal to trigger your alarm system.
Wireless smoke detector
This is smoke detector. When detector enough smoke, this detector will beep sound alarm, and send wireless signal to trigger your system alarm.
Product Include
Attention: The infrared detector use battery: 1.5V AA battery, without battery inside. The smoke detector use battery: 3V CR123A battery, without battery include.
You May Like